Hi guys and girls,
Please take a good look of this two photos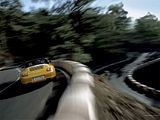 So beautiful, aren't they?
But how the hell they can take a motion shot like that?
Chasing the porsches with helicopter and take photos of them?
my best bet is that they are photoshopped
My question is how to achieve a motion blur like that?
like the yellow carrera shot, the blur direction is different in all parts of the photo
looks like a few radial blur applied
and for duel shot, it motion blur along the curve of the road
what I want to do is to put a static road shot into motion
I tried 2 methods:
1. Transform the road close to a part of perfect circle, spin-radial blur and transform it back to original shape.
problem - way too hard to transform it correctly, even harder to transform it back
2. Dulplicate the layer (the image of the road) 50+ times, motion blur each layer with different angles, then mask out all useless blur on each layer.
problem - it is wayyy too time-consuming. my first trial used 5 degrees blur angle difference between each layer, but while I did the masking, the inner side of the corner (the road) almost impossible to blend each layer correctly, unless I use 1-2 degree difference between layers
If photoshop has a function to allow you to blur along a path, that would save my day
I just have no idea to work another way around
can someone give me some advice on this?
thanks in advance
Cheers